Taipei, Taiwan, September 30, 2015 – BenQ, the internationally renowned provider of digital lifestyle products and global DLP® projector leader with number one market share position in the 1080p Full HD segment, announced today the introduction of its newly launched Home Video Projectors. The BenQ W1110 brings the true movie theater experience into the home with sharp, crystal clear picture quality, and the W2000 and W3000 take the home cinema experience to another level thanks to the BenQ technology that achieves the Rec. 709 standard for high-definition color reproduction. In addition to delivering stunning true cinematic colors, BenQ Home Video Projectors are equipped with a 1080p Full HD optimized optical system for unmatched picture clarity and details, along with features like lens shift, side projection, short-throw technology, big zoom, as well as Full HD wireless connectivity and user-friendly interface. Now, users can easily enjoy the luxury of entertaining family and friends in the privacy of their own home theater with professional quality audio-visual projection.


With a harmonious combination of luxurious gold/silver color and elegant curves, W2000/W1110 deliver modern aesthetics and complement today's lifestyles. And in addition to ultramodern design, the newly enhanced airflow and fan architecture in W2000 and W1110's thermal systems reduce acoustic noise to 27dBA in Eco mode, the lowest fan noise in its class, to provide a most pleasant viewing experience. Now, users can easily enjoy the luxury of entertaining family and friends in the privacy of their own home theater with professional-quality audio-visual projection.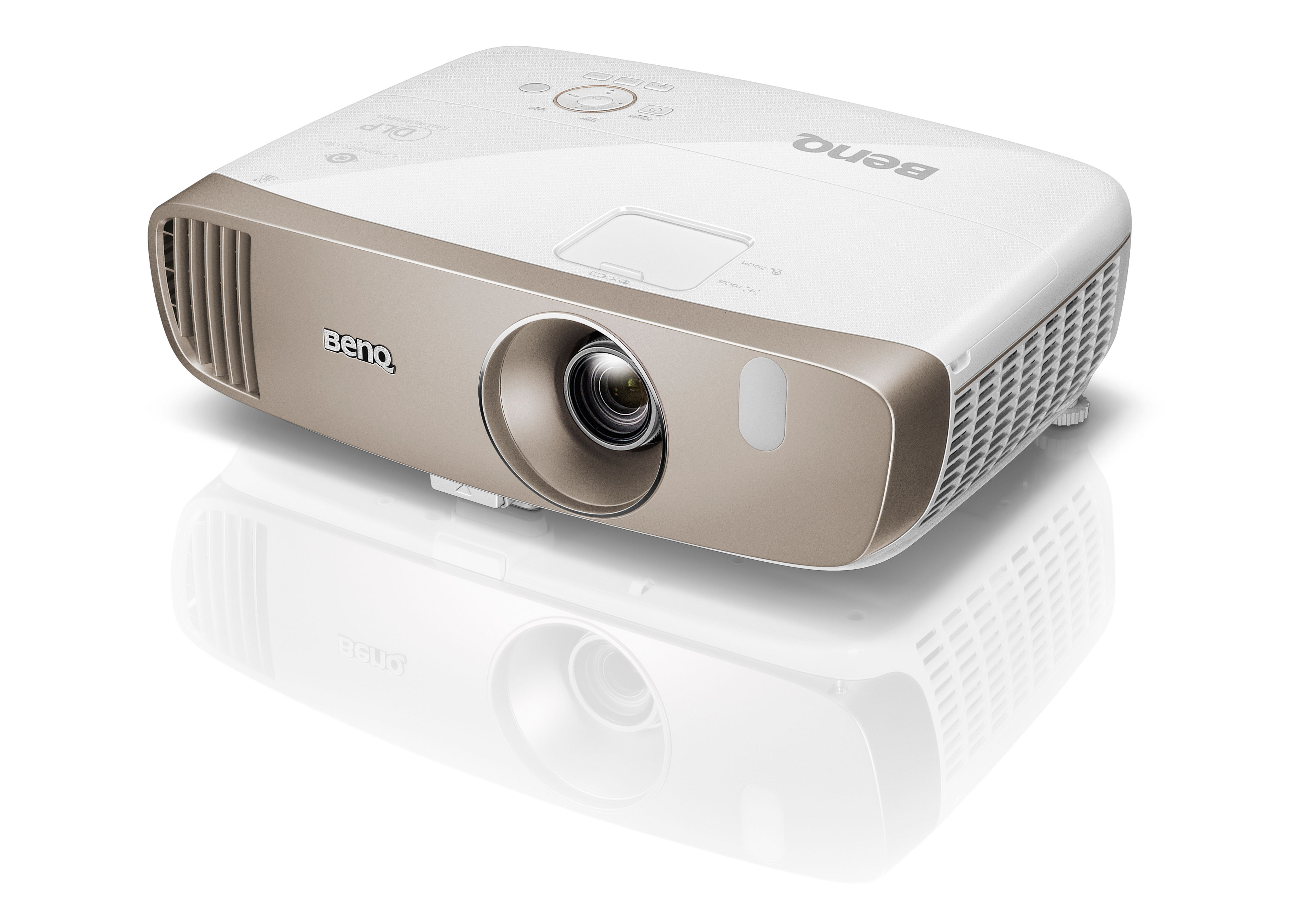 6X RGBRGB Color Wheel Delivers Rec. 709 HDTV Standard for Cinematic Color
Users now can have lifelike cinematic color, Rec. 709, and enjoy big-screen entertainment with BenQ Living Room Projectors. Rec. 709 is the international HDTV standard introduced in the 1990s to gaurantee accurate reproduction of cinematic color as the film director had intended. Only displays that conform to Rec.709 can reproduce the original quality and authentic color of HD content. That level of quality is now available in home projection with the release of BenQ's W2000 and W3000 Living Room Projectors, which are precision-calibrated utilizing a 6-times speed RGBRGB color wheel with finely tuned coating and color segments to replicate stunningly true colors for a superb viewing experience.
Bringing Hollywood into Your Home with BenQ's CinemaMaster
BenQ Living Room Projectors feature exclusive CinemaMaster technology, turning any room into a world-class home theater with video and audio enhancements. The W3000's Video Enhancer features include Motion Enhancer to turn head-spinning action sequences into fluidly flowing movement by inserting 36 interpolated frames between sequences to produce seamless and vivid 60-frames-per-second video. Colors pop off the screen with Color Enhancer, which employs complex algorithms to make detailed adjustments to color saturation for truer, more vibrant hues and pigments. Another eye-opening feature, Pixel Enhancer, produces sharper images with crisp edges and realistic surface textures to reveal even the finest details. And thanks to Flesh Tone, which boosts skin color without impacting background hues, the actors on the screen never looked better. And BenQ lets you hear the difference, as well. Its revolutionary audio system features speakers housed in resonant sound chambers along with BenQ CinemaMaster Audio Enhancer powered by MaxxAudio. This powerful digital sound enhancement engine incorporates the same Waves' breakthrough algorithms used by Hollywood studios to dramatically boost the bass and treble, creating stereo effects that truly immerse the audience. And finally, with the Imaging Science Foundation's highly acclaimed ISFccc® calibration built-in, BenQ living room projectors' image and color performance can be further customized fit to your environment.
High Contrast, Razor-Sharp Image
As the world's number-one innovator in DLP technology, BenQ knows projectors and knows what home theater enthusiasts want — from the casual movie viewer to the home cinema connoisseur. BenQ Living Room Projectors create real-world performance with an ANSI contrast ratio that significantly surpasses that of non-DLP projectors for the cleanest, most detailed visual performance. BenQ Living Room Projectors produce industry-leading High Fill Factor by boosting light levels in each individual pixel for more defined details, so you can lose yourself in the visual fantasy rather than be distracted by pixilated graphics.
Set Up in Minutes with Hassle-Free Installation
BenQ puts the home cinema experience within anyone's reach with its Living Room Projectors. Never has it been easier to set up and operate a home theater. Set-up can be achieved in minutes, and with versatile short-throw projection, a 100-inch viewing area is possible at only 2.5 meters. Even the smallest living room can now produce a big-screen cinema experience. In addition, the Big Zoom feature adapts to any room configuration without the hassle of complicated installation. Vertical lens shift allows the projected image to be shifted up or down without lowering or elevating the device or sacrificing image quality. Furthermore, horizontal placement poses no barriers to the W3000 with its H/V lens shifts functionality. And thanks to side projection with 2D keystone available on W2000 and W3000, users can better free up valuable space with flexible placement options.
Wireless Full HD Kit Offers More Freedom and Less Hassle
The optional Wireless Full HD kit allows streaming of uncompressed 1080p content to the projector — even in 3D. From the moment the BenQ Living Room projector is turned on, One-Time Setup detects and connects the kit automatically. Uncompressed streaming offers a tremendous advantage over compressed 1080p streaming technologies, and that translates to unbeatable lag-free performance when projecting the most demanding movie sequences or action-intensive video games. The wireless kit's four antennas extend coverage up to 100 feet, even through walls, while Dynamic Frequency Selection compensates for signal loss by switching channels.
Whether watching the latest blockbuster with your family, blasting aliens with the kids, or catching the big game with friends, BenQ Living Room Projectors put your living room at the center of the action. User-friendly and affordable, a professional-level audio visual experience is within everyone's grasp with the BenQ W1110, W2000, and W3000 Living Room Projectors. The new Living Room Projectors will be available soon for purchase worldwide. For more information, please visit ap.BenQ.com