Brand: BenQ
Product: BenQ TK850 4K
Key specs: 4K UHD (3840 x 2160), VGA (640 x 480) to 4K UHD (3840 x 2160) resolution support, DLP projection system, 2 5W Chamber Speakers, 4.2kg.
Price: ₹2,49,000 (starting)
Rating: 4/5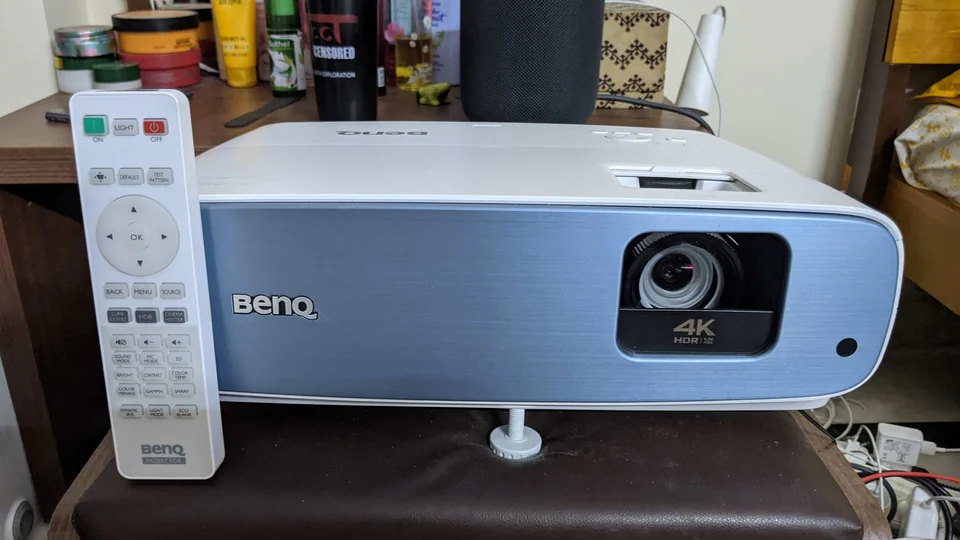 For many, projectors are devices used in office conference rooms only, but there does exist a market for people who buy these instead of a television.
The Covid-19 pandemic has changed our lives and we don't yet know when we will return to a movie hall, or watch live matches at stadiums. Given such uncertainty, and the need to be safe over all things else, this is exactly where a projector may fit in.
To put it very simply, if you have a vacant wall anywhere in the house, a projector like the BenQ TK850 will get you a 100-inch screen and you'll be spending WAY less than what you would for a 100-inch TV.
The bigger question though, at this point in time, is do you want to invest ₹2 lakh plus on a device? Any device?
The BenQ TK850 4K projector, with its all-white design and rounded edges, is bulky for sure, but it does not dominate the room. You can place it on pretty much any sturdy, flat surface, adjust the height and you are good to go.
The fact that it is not dominating and easy on the eyes, makes it fit in a room better than an 80 or a 90-inch TV. The biggest plus is simply the amount of space you save. You can also pack the projector away when you are done.
The ports are all on the back so it's very easy to handle. There are two HDMI 2.0 ports, along with a SPDIF, audio out, RS232, USB 3.0 and a 12V trigger that automatically turns the projector on when a live device is connected.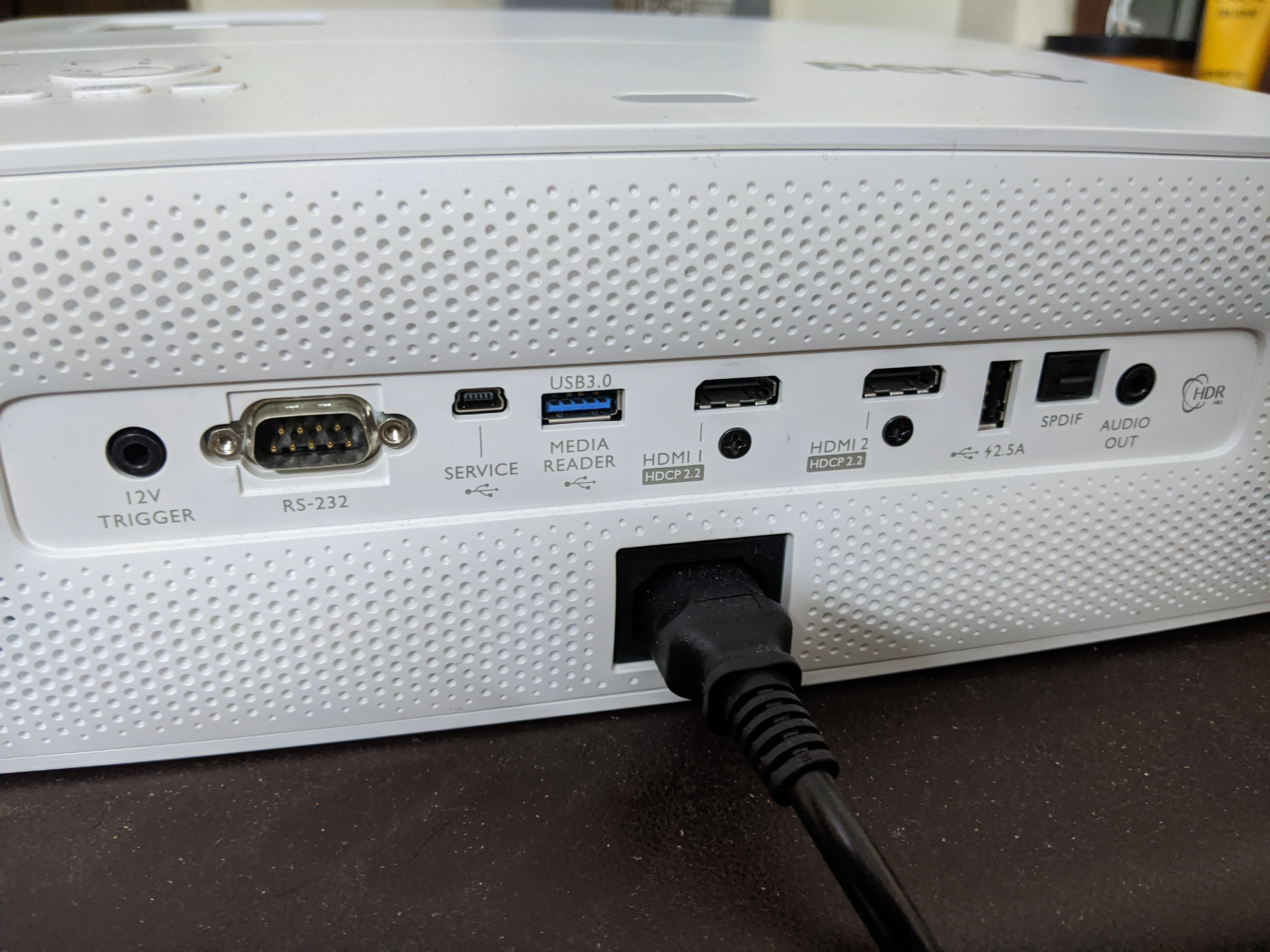 The projector does not come with an HDMI cable in the box, so you need to have one (or two) handy. I used the projector with my laptop so I just needed one.
On the top, you get the power button, D-pad and buttons for 'Ok', 'Menu', 'Back' and 'Source'. There are LED indicators for the power, lamp and temperature as well.
The projector heats up a bit so the temperature indicator makes sense. It gets a tad warm even when it's not being used but turned on.
The remote is chunky, big and white, and the orange-pink backlight is pretty helpful since projectors need dimly-lit to fully dark room. There is an option to turn the backlight off on the remote as well.
Setting up the BenQ TK850 was easy, it was literally plug-and-play. However, what's important to remember here is the fact that the BenQ TK850 is a short-throw projector, so you need to have sufficient distance between the wall and the device. And it needs to be placed square in the middle. I placed the projector about 5 feet away from the wall and it worked fine.
You have to make sure the projector is placed at an optimal height though to ensure you get the best screen real estate. The BenQ TK850 comes with overhead mounts but if you do not want to use that, a basic waist-high table should do the trick. I placed it on a knee-high stool and had to unscrew the front foot (below the projector) to the max to angle the picture right and get it to eye-level, a higher table would have definitely helped. The projector allows a slight vertical shift in image that can be moved up or down - but that's limited. So it's best you place it right.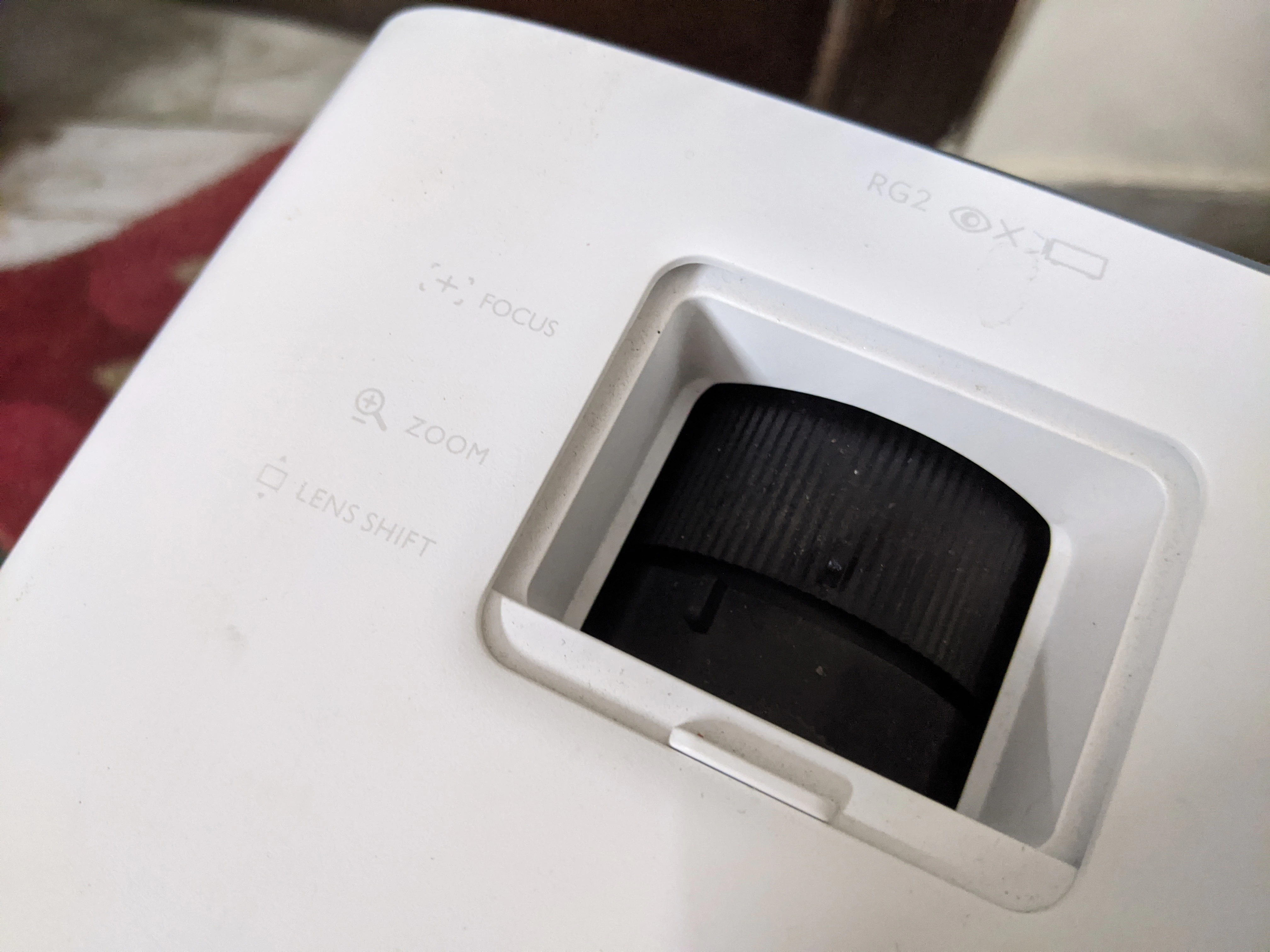 You can zoom in or zoom out and focus by pulling back the hatch cover on top and adjusting the lens. At its max, the BenQ TK850 can give you a 100-inch screen. Adjusting and focusing have to be done manually depending entirely on where you have placed the projector.
There isn't much happening here software-wise and you just get a basic menu. It also doesn't have built-in apps like YouTube or Prime Video. To access all or any of these you will need a physical source to connect to.
The BenQ TK850 does upto 3,000 lumens brightness - it's BRIGHT. There was no need to turn off lights in the room to watch content. With normal lights on (like a tubelight) you could watch content without too much hassle, dim lights made the experience better and of course, when you turned the lights off it was like a private movie hall, minus the popcorn (because we were too lazy).
The BenQ TK850 makes HD content look good, we have to give it that. I watched some Masterchef Australia on it, just for the colours, followed by Avengers Endgame — streaming both from Disney+Hotstar — they looked great.
You get customisable options with dedicated Cinema and Sports settings. You can also pick between the preset Bright More or Living Room mode or you can create a custom mode that suits you well.
The colours were wholesome, bright and vivid. They did appear a tad oversaturated at times, but that's a matter of personal preference - I am partial towards neutral/natural/cooler tones.
You could call the fact that the projector isn't very loud a downside, but projectors usually don't focus on sound anyway. The audio very often got covered by the sound of the fans etc. Even with the volume raised to the max, it wasn't overtly or uncomfortably loud. You will need speakers with the BenQ TK850, or a soundbar. Even while watching it alone in my room, I found the volume wanting.
Should you buy it?
If you want a big screen, like 100-inches big, and don't want to spend tens of lakhs behind a TV that can give you screen sizes like this or somewhere close to this, a projector like the BenQ TK850 makes sense. It makes more sense for people who want to make a home theatre-type setting, or for studios etc.
It takes up a fragment of the space the TV will and gives you a bigger screen (one of the top TV brands in the market currently has a 98-inch QLED 8K TV that is made only to order and costs ₹59,99,900). So a fragment of the price too, but no 8K obviously.
Now, the projector and TV markets are different ones and they may only, barely, overlap if you are looking to set up a home theatre system. In which case, economically, a projector definitely makes more sense given the picture quality.