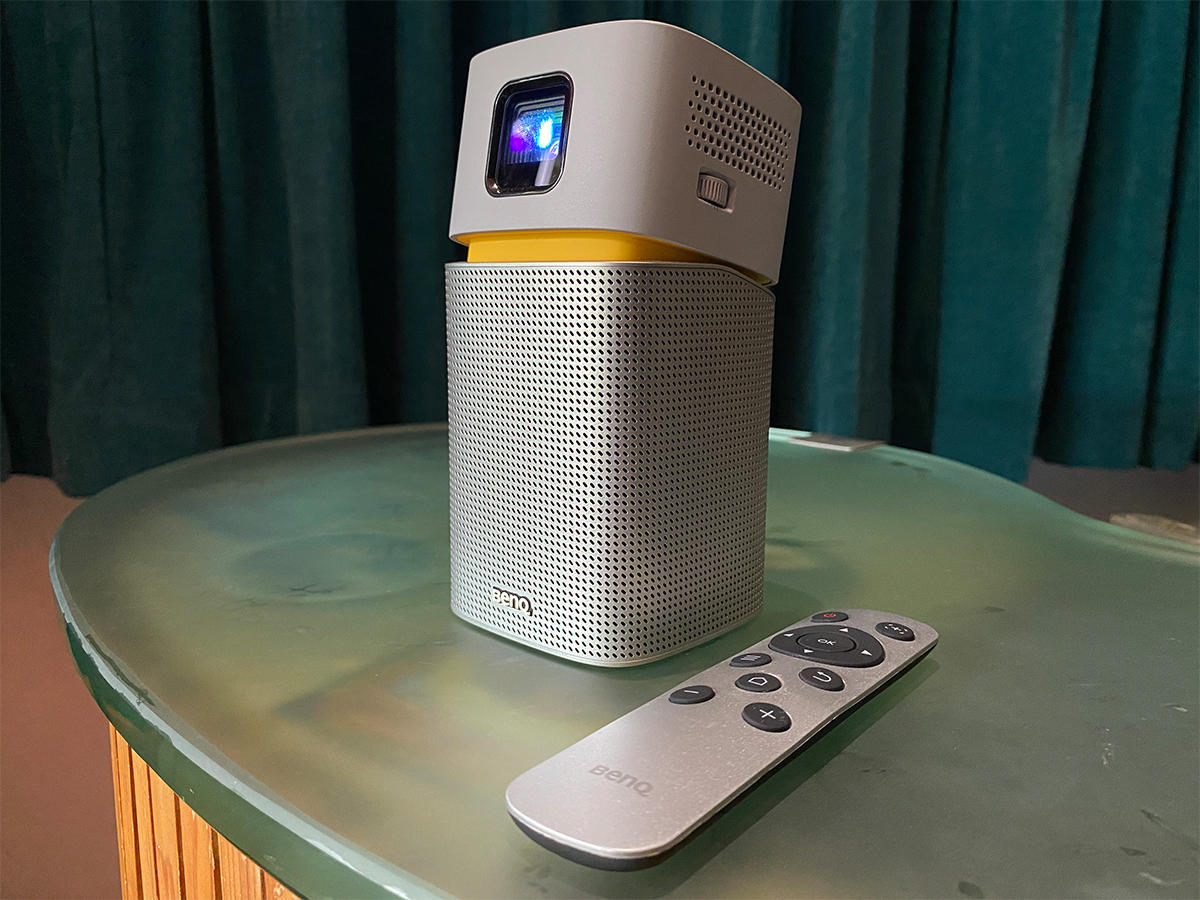 As a category, portable projectors haven't really enjoyed the catapulted success that their form factors and decent battery lives should've afforded them.
A great gadget if done well and a potential replacement for television if done right, I reviewed the Xgimi Mogo just a few months ago and came away impressed. BenQ is a much bigger name in the world of consumer electronics and the GV1 is their claim to this latent pie. Is it worth a bite? Let's dig in…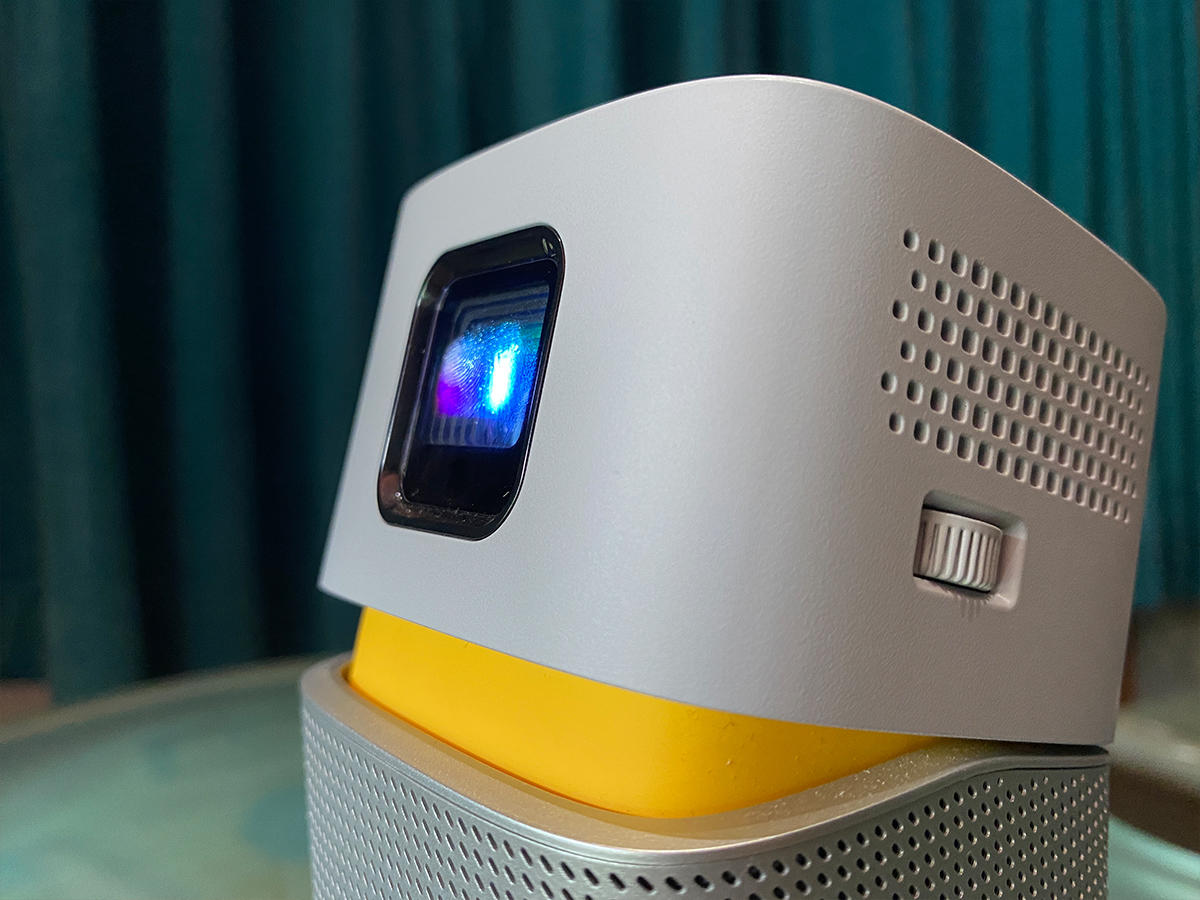 Form factor wise, the GV1 is a very portable thing, roughly about the size of a soda can with a high-quality fit and finish overall with a distinct split between the top and bottom halves. The tillable top half is where the projector actually lives with a DLP engine that's capable of 200 ANSI lumens, an image up to 100 inches , but sadly with resolution limited to 480p. You can change view 1080p content on it, but it'll just down-convert them so it still remains compatible with a wide range of streaming services or videos directly from your mobile device. In fact, it's sole purpose seems to be a quick casting companion for a family gathering or a bedroom solution.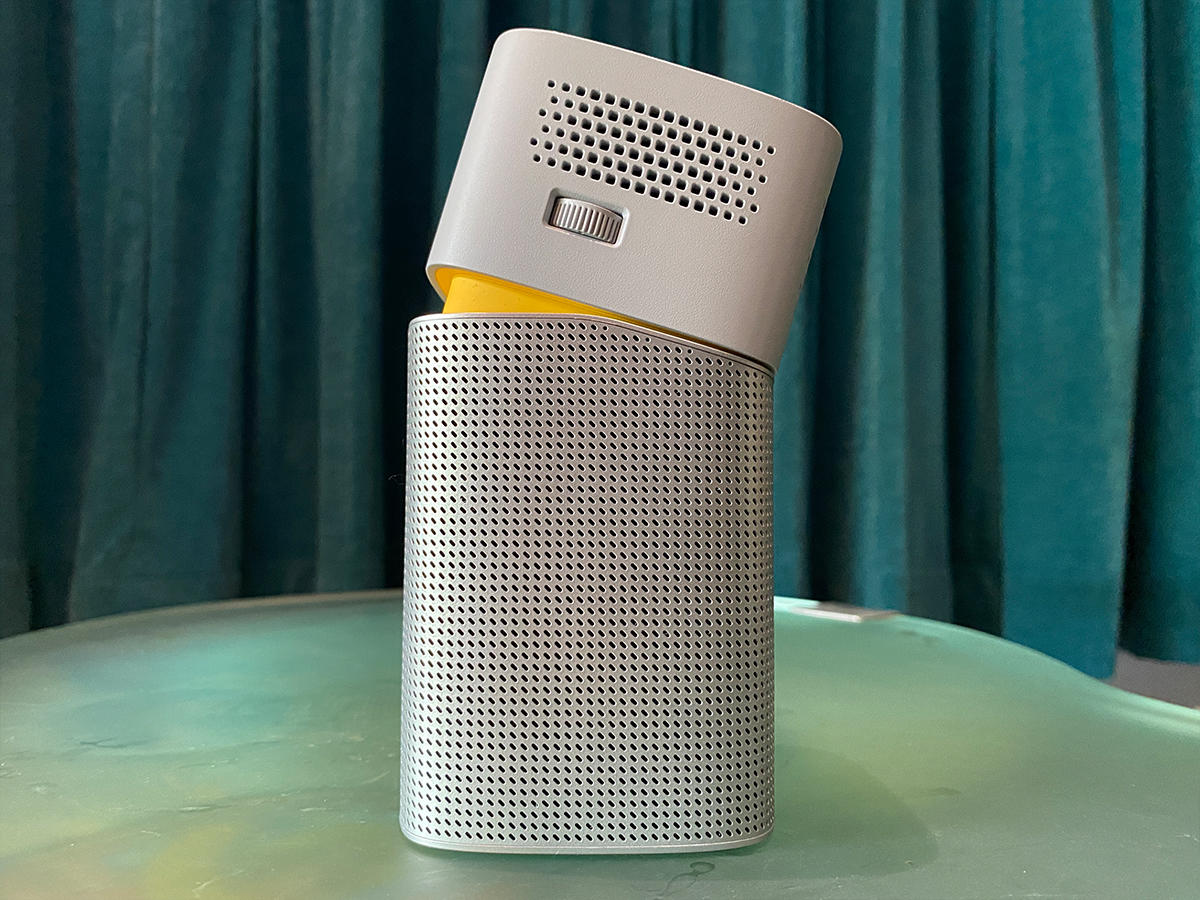 The projection head can be tilted upwards by 15 degrees, making placement that much more versatile whether it's down on the floor, on the couch beside you or a desk. Thanks to the auto keystone, there is none of the tediousness associated with setting up a projector and ensuring perfect geometry. There is a focus dial on the side of the tilting head and it works like it's supposed to, no surprises. The bottom half is the speaker enclosure that houses a 5W single driver but housed in a three-sided chamber so as to widen its dispersion. The driver itself is backward firing so you will get the best sound when the GV1 is placed in front of you.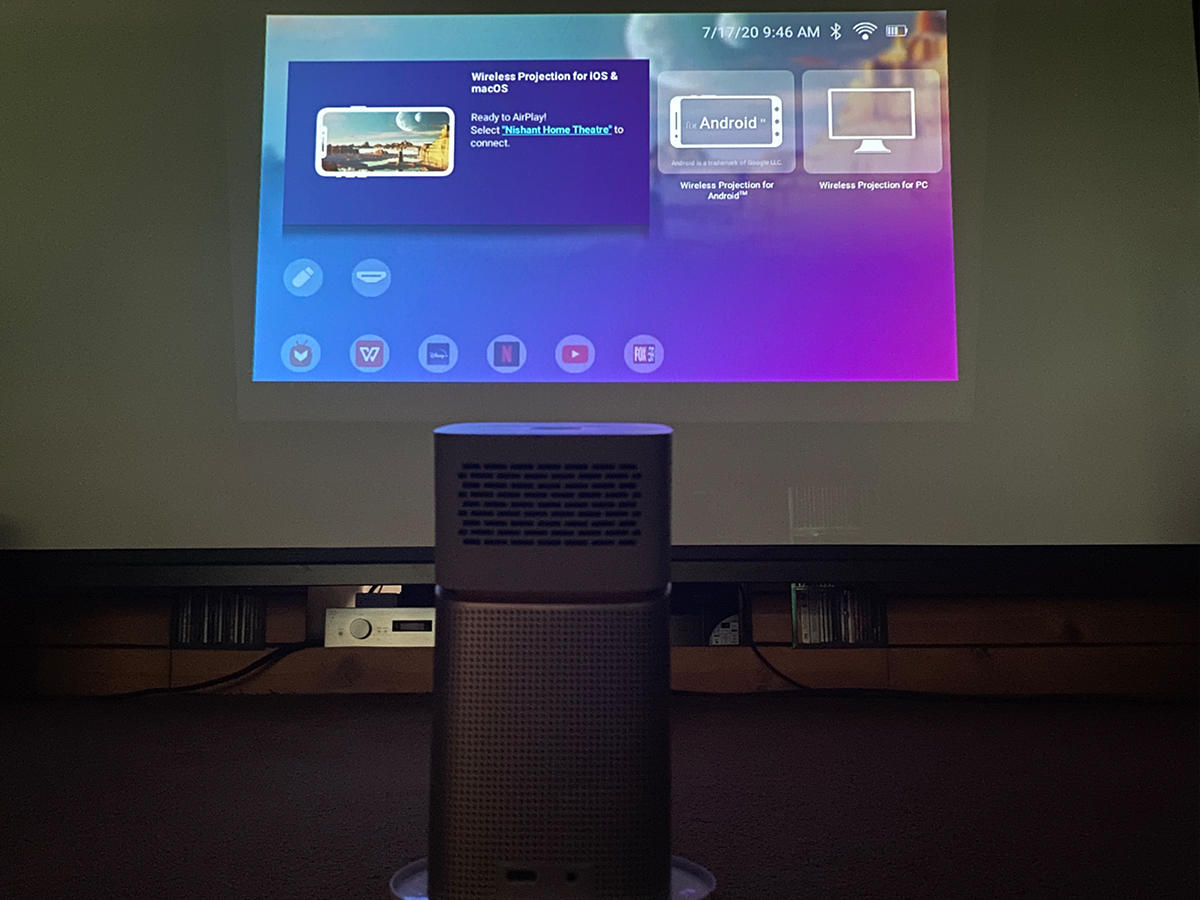 A USB-C port along with a power adaptor port is all the connectivity you get and generously, BenQ includes a USB-C to HDMI dongle in the box so you can easily connect the GV1 to a gaming console, laptop or even a DVD player if you wish to. But it's all about wireless connectivity and ease of use, so setting it up for WiFi is as easy as it should be and once it's connected to your network, casting via Android or AirPlay doesn't require any additional set-up. The UX is based around the Aptoide marketplace and the selection of built-in apps is limited and while Netflix and YouTube work, most of the others were either irrelevant or not active for the Indian market.
So you will be relying a lot on casting from your mobile device but then again, you can't just mirror everything or anything from your mobile phone. Only native videos shot on your phone and YouTube can be wirelessly cast from your iOS device. Android does give a few more options but overall, the experience is less than stellar when you can't simply mirror whatever's on your device to the big screen. Isn't that the whole point of a portable projector like this?
Wired connection via HDMI to a laptop works much better, but we'd like to see BenQ offer rapid updates to make the experience smoother than it currently is. What is nice is the ability to use your phone as a hotspot or even the GV1 as a hotspot!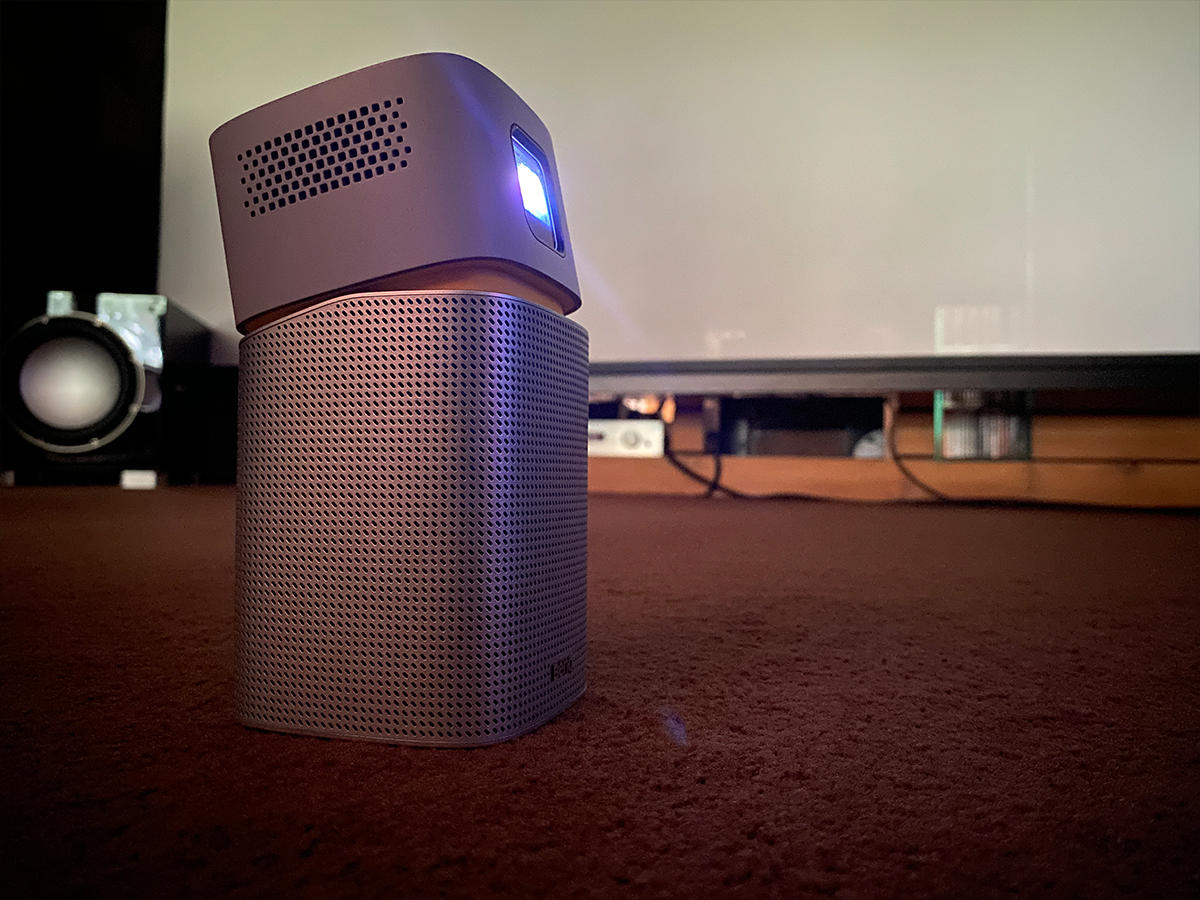 Picture quality is strictly...acceptable. With most devices in the modern world sporting 720p in the least and usually Full-HD or even 4K, getting used to a 480p picture isn't easy. Sit too close to the screen and you'll see the pixel structure and sit too far and you constantly feel the need to adjust the focus dial to get a bit more sharpness from the image. Watching a Game of Thrones episode on the GV1 isn't recommended, but it serves fine to watch a sporting event when friends are over and you want something larger than your 42in telly. Battery life should be good for a full football match and in our tests, it lasted for more than the length of an average Bollywood movie, so plugging in should be necessary only after 3 hours or more with the speaker active.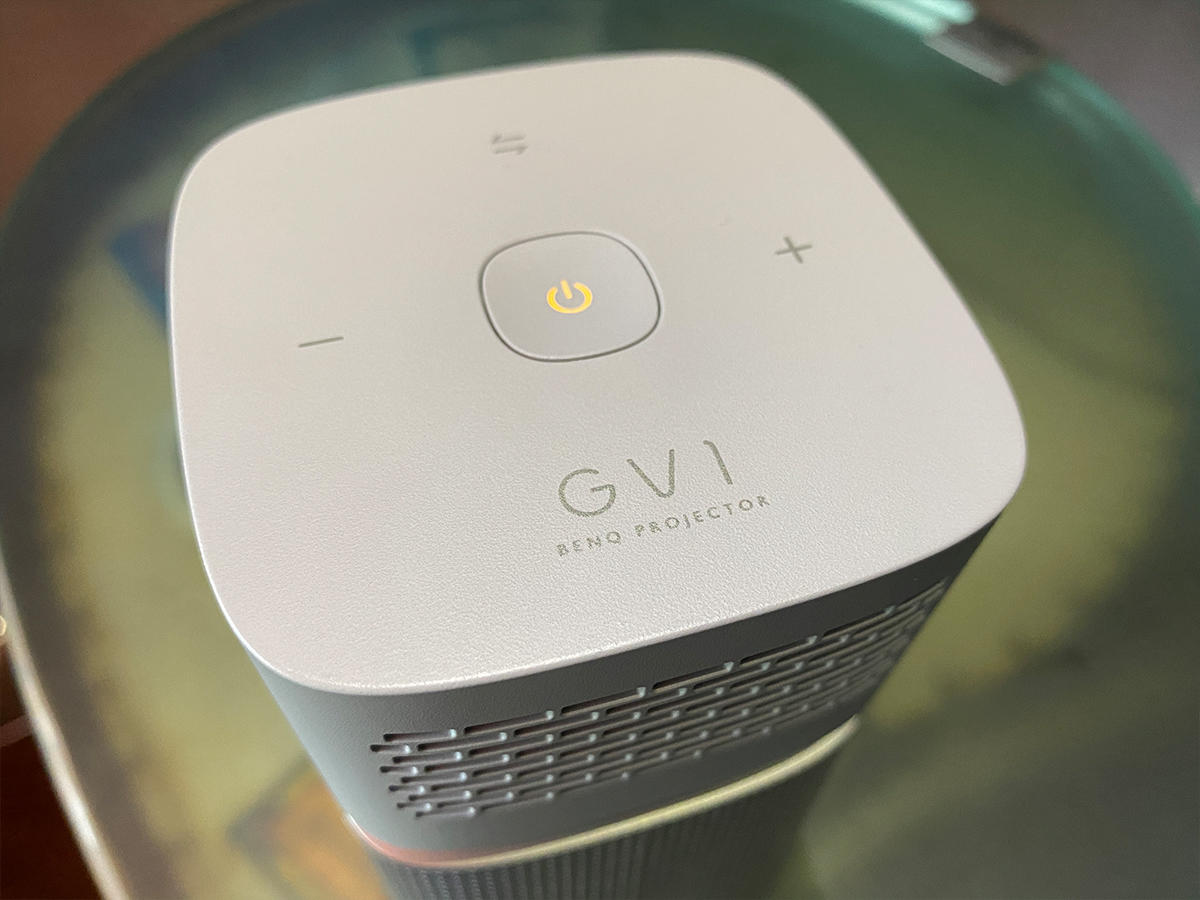 Using it as a Bluetooth speaker isn't a bad idea as it actually sounds balanced, with a semblance of bass too, which is impressive for a box of this size. But making any changes to the picture or sound modes cannot be done while watching content and you have to go back to the Home Screen, which is a pain. The remote control is less than eager to respond too, but the partnering app on iOS or Android works well and should be used readily as a replacement to the physical remote.
BenQ should have installed more buttons on the top panel to make quick changes and reduce reliance on the remote constantly, especially considering this projector will mostly be close to the viewer. It strays off the mark from its intended target in quite a few ways, making it hard to recommend. It may be cheaper than the XGIMI but it also delivers less of an enjoyable experience for movies.