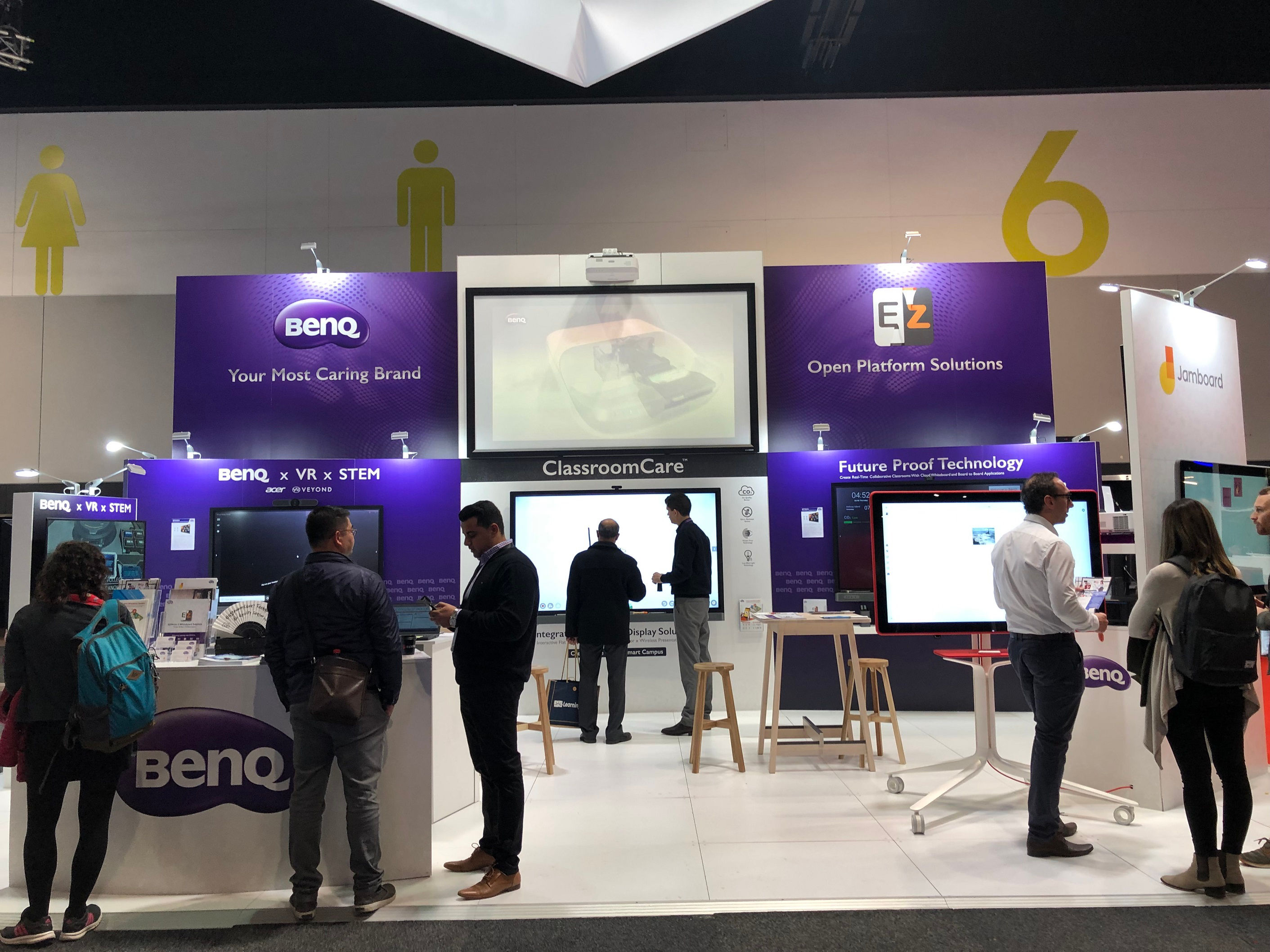 Sydney, AUSTRALIA on June 6, 2019 – BenQ, an internationally renowned provider of professional display solutions, will showcase its latest edtech products at Australia's EduTECH International Congress & Expo 2019 on June 6-7 at Sydney's International Convention Centre, Booth No. 704. Showcase includes: X-Sign Broadcast, a new campus broadcast system used as a multipurpose communication and training tool; The Virtual Reality Science Lab, creating a VR-based STEM learning environment; BenQ's real-time collaborative classroom with IFP-based app EZWrite 5's Cloud Whiteboard and Board to Board applications; The Integrated Education Display Solution, combining BenQ Interactive Flat Panel (IFP), Dustproof Laser Projector and the Wireless Presentation Device InstaShow; and the wireless content-sharing app InstaShare. Last but not least is Google's Interactive Cloud Whiteboard, including the introduction of Google Jamboard for Education and Google Meet for Jamboard.
X-Sign Broadcast: Creating a Smart Campus
X-Sign Broadcast, a new feature on BenQ ClassroomCareTM IFPs, is the next generation of wireless broadcast systems supporting text, images, videos, Office files, YouTube and more. Educators can deliver lesson content, administrators can send important messages and safety alerts, and students can preview and review class materials in a single class or selected group of classes.
There are two modes of message delivery: "Interrupt" messages are delivered to the class immediately, appearing on the IFP screen during class. "Schedule" content is set beforehand to appear at a certain date and time. When the client is connected to the web, users can schedule messages or content delivery using any computer, smartphone or tablet, smart device, or X-Sign-compatible IFP.
Unique On-site Demonstrations
In line with current STEM and Project Based Learning and real collaborative and smart classrooms, a series of on-site demonstrations will be showcased at BenQ's booth.
1. Real-time Collaborative Classroom, featuring BenQ's EZWrite 5's Cloud Whiteboard with Board-to-Board applications. Cloud Whiteboard allows teachers and students to collect, categorise, edit, and share ideas between IFPs and mobile devices, making it a perfect tool for collaboration and remote learning. With Board-to-Board Applications, students can engage in project-based learning by joining the same online lesson or discussion using different BenQ IFPs. The customised Android OS platform allows schools to develop and install their own learning and teaching suite.
2. Virtual Reality Science Lab using VEYOND Reality's virtual chemistry and physics software. This brings future proof technology into the classroom by incorporating VR with BenQ's Interactive Flat Panel, creating a virtual STEM classroom that enhances learning with safe and engaging virtual environments that fulfill real life education needs.
3. Integrated Education Display Solutions for smart classrooms, including BenQ IFP, Dustproof Laser Projector and Wireless Presentation Device InstaShow
TM
. Presenters can make annotations on their IFP that immediately displays on the projection screen using InstaShow. This solution is designed for lecture halls, auditoriums, interactive classrooms, multimedia rooms and more. More importantly, ClassroomCare
TM
IFP combines an Air Quality Sensor, TÜV-certified Germ Resistant screen and Low Blue Light and Flicker-free technologies with anti-glare displays, providing a safeguard in the classrooms. Dustguard
TM
Pro Laser Projectors include a sealed engine that block up to 99% of particles with IP5X-level protection, ensuring long lasting, low maintenance operation.
BenQ Wireless Solutions: InstaShowTM and InstaShare
Schools now are now making the transition into smart campuses. The need for content mirroring wirelessly from own devices is increasing along with demand for efficient and interactive learning and meetings. InstaShowTM WDC10 is a Plug-n-Play wireless presentation device, now with the new USB Type C Button (Also available in HDMI). In addition to being cable-free, no software installation is required, and it includes AES 128-bit encryption and WPA2 authentication protocol. With its one-button design and natural ease of use, InstaShow transforms cluttered meeting spaces into seamless collaborative experiences.
Another powerful tool is the InstaShare App, which wirelessly mirrors and casts content to BenQ IFPs from any laptop, smartphone and tablet. This is great for idea sharing and homework review during lectures.
Google Jamboard for Education is Now Available
BenQ will also showcase Google Jamboard, a 4K Ultra High Definition touch-enabled interactive Cloud Whiteboard. The Google for Education package is an excellent opportunity for schools to upgrade to a collaborative learning classroom with seamless integration of G-Suite accounts, and bundles with a perpetual Jamboard software license. The latest upgrade is Meet for Jamboard with full-screen video conferencing through Google Hangouts Meet. Jamboard displays scheduled meetings and allows participants to join with just one tap. Users can seamlessly switch between video conferencing and whiteboarding.
Because it matters
From building smart campuses, empowering STEM and project-based learning, to facilitating better classes, meetings and collaboration, BenQ is committed to helping educators, teachers, and institutions function more efficiently and enhance learning through healthy-driven, innovation-fueled products, services and solutions.