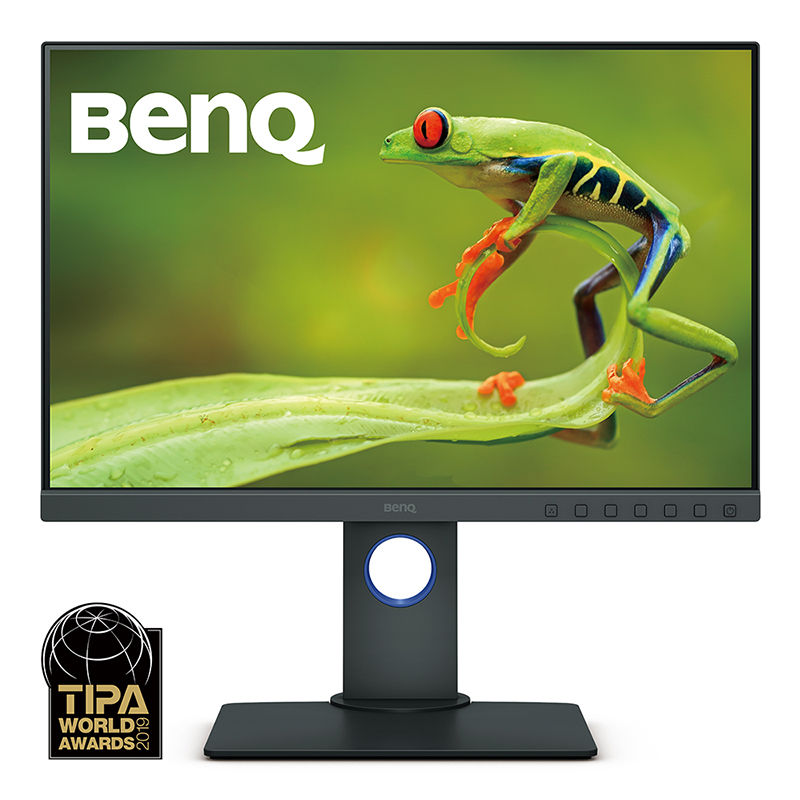 April 10, 2019 – BenQ, internationally renowned provider of digital lifestyle devices, proudly announced today that SW240 photographer monitor has earned the Best Budget Photo Monitor 2019 from the Technical Image Press Association (TIPA), the only practical display elected by the international industry advocates. Representing 30 photography publications around the world for in-depth insights, the TIPA Award acclaims and recognizes the photo and imaging product in the world.
Continuing the excellence of SW2700PT, the Best Photographer Monitor 2016 by TIPA, BenQ SW240 is a "value" professional display in 2019 with essentials: A 24" IPS professional photographer monitor with precise 99% Adobe RGB and 100% sRGB color space and main connectivity (USB, HDMI, DisplayPort and DVI). SW240 can also be hardware color calibrated to offer smoother color gradations with BenQ proprietary Palette Master Element calibration software. For starters or a pro upgrading to a new monitor, SW240 is the perfect choice.
Professional Photographer Monitor with Essential Spec.
The TIPA jury has affirmed BenQ SW240 PhotoVue photographer by the following statement: "This photo monitor can match more expensive units in terms of functionality, colour accuracy and straightforward performance. Its no-frills design concentrates on the essentials: a 24 inch 1920X1200 IPS panel and basic connectivity (including USB, HDMI, DisplayPort and DVI), yet the specifications are on a par with higher priced units, including 99% Adobe RGB and 100% sRGB color space coverage and hardware calibration. The SW240 also comes with Palette Master Element calibration software, with an optional hood available."
About Technical Image Press Association (TIPA)
"[Our] award process is one that draws upon a global panel of knowledgeable experts who are exposed to a wide range of products…for an honest and trustworthy appraisal of photo and imaging products," as TIPA Technical Committee has committed itself to. "TIPA WORLD AWARDS both recognize and honor industry companies and their products and serve as an important benchmark and guide for consumers in making their purchasing decisions."
This year, TIPA held a yearly General Assembly comprised of editors from 30 member publications leading the photography and imaging industries to meticulously select among TIPA Award finalists. Products endorsed by the TIPA Awards pass the most rigorous evaluations by the organization's Technical Committee, and an annual TIPA Award Winner indicates the very best product introduced to the market.
2019 TIPA General Assembly voting took place in Bangkok in March, and trophies for the winning companies will be presented in Tokyo, Japan on May 20. For more information on TIPA, please visit www. Tipa.com. To find out more about BenQ professional monitors, please visit BenQ.com.