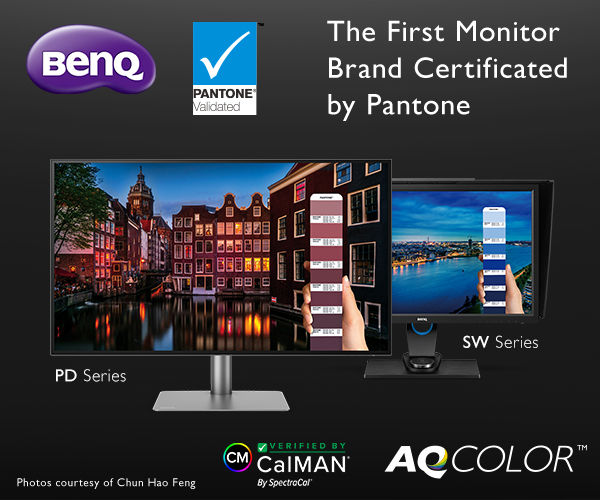 Sydney, AUSTRALIA, MAY 2,2019 – BenQ, internationally renowned brand of digital lifestyle devices and innovator of professional display technology, today announced its PD Series of DesignVue monitors for designers and SW Series of PhotoVue monitors for photographers became the world's first stand-alone displays to earn the Pantone Validated status, ensuring coulor-matched interoperability with a plethora of production-grade colour output devices qualified by Pantone.
"Pantone Validated provides designers and photographers confidence in the Pantone colors rendered on screen throughout their creative process, to better align materials in Pantone colors or simulations using Pantone-licensed output solutions," said Martin Moelle, Managing Director of BenQ Australia and Vice President of BenQ Asia Pacific. "BenQ is proud to join the global community of colour professionals who trust the Pantone system to deliver accurate colours in graphics, fashion, packaging, architecture, and consumer goods industries."
Rigorously evaluated and approved by Pantone colour experts, BenQ DesignVue and PhotoVue monitors offer integrated colour correction and BenQ-exclusive AQCOLOR technology to guarantee superior fidelity in color accuracy, including tested quality in achieving Pantone Matching System (PMS) colours. In use by virtually every colour-critical industry and manufacturer worldwide, the PMS system is a universal language of colour that allows creative professionals to specify and match specific colours, regardless of the equipment and materials used to produce the exact colour.
Newly launched for 2019, the Pantone Validated mark vouches for the ability of a colour control system and associated hardware to accurately produce the full range of PMS colours, ensuring the production and appearance of colours in print or on finished products reflects the design intent, now including Pantone colours as shown on BenQ DesignVue and PhotoVue display devices.
As the global authority on commercial colour reproduction, Pantone has provided colour standards by standardising over 10,000 colours for designers and product developers since the 1960s. Pantone's validation of DesignVue and PhotoVue monitors reinforces BenQ's dedication to providing absolute colour accuracy to colour-critical professional applications.
To find out more about BenQ DesignVue and PhotoVue monitors, please visit https://www.benq.com.
For more information about Pantone Validated, please visit https://www.pantone.com/licensees/pantone-validated .