July 1st, 2019 - BenQ launch the brand-new monitor for photographers, the SW270C, the latest addition to the SW PhotoVue family. BenQ's SW270C monitor delivers brilliant and accurate colors with 99% Adobe RGB, HDR10 and 97% DCI-P3/Display-P3 color spaces; BenQ AQCOLOR technology; USB-C connectivity that'll boost your work efficiency with quick video, audio and data connectivity and power charge; and Uniformity Technology to achieve screen-wide color accuracy. It's the perfect monitor for photographers looking for professional results at a great price.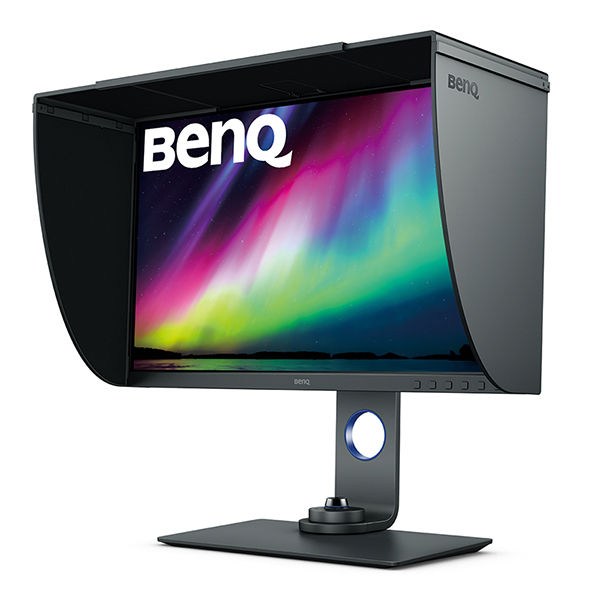 The key features are:
• Uniformity Technology
• 99% Adobe RGB color space and HDR10 compatibility
• 16-bit 3D LUT with a 10-bit panel for smooth color gradients
• Hardware calibration
• USB-C connectivity with power delivery
• ncludes shading hood
• Gamut Duo mode for side by side color comparison
• Next generation hotkey puck

Uniformity Technology
Fine-tuning the color and brightness of sub-regions across the entire screen, BenQ Uniformity Technology offers screen-wide precise color for perfectly authentic and consistent viewing experiences.
Enrich Your Color Palette
Featuring 99% of Adobe RGB, 100% of sRGB/Rec.709, and 97% of DCI-P3/Display P3 results in a more realistic color representation for professional photography.
HDR for Vibrant Images
HDR10 technology offers photographers the chance to preview the HDR effect of the video content, ensuring the desired outcome for their final works.
16-bit 3D (LUT) Delta & Delta E≤2
The 16-bit 3D look-up table (LUT) and precise Delta E≤2 in Adobe RGB and sRGB color spaces render the truest view of the original image with accurate colors.
Hardware Calibration
Hardware calibration allows photographers to adjust the monitor's internal image processing chip, keeping displayed images consistent with the original content without being affected by the graphics card settings.
Video Format Supports
SW270C supports 24P/25P film content to be displayed at native cadence, without pulldown, which can distort playback of the source video.
USB-C port
The latest USB-CTM port provides high-speed video/audio/data transmission and power delivery with one single cable providing a quick and easy workflow setup.
Hotkey Puck G2
Preferred color modes and features are designated as quick access to widely used settings.
CERTIFIED with CalMAN VERIFIED and PANTONE VALIDATED
With the certification of CalMAN VERIFIED and the Pantone Validated, BenQ PD3220U monitors maintain truthful colors, which promise industry-approved performance creative enterprises will love to use.
The monitor also comes with a shading hood for control over ambient lighting conditions and glare.
As the frontrunner of the professional monitor industry, BenQ has never slowed down but sought out further improvement for photographers, especially in the respect of the quality of color reproduction, viewing comfort and user convenience. The SW270C's proprietary AQCOLOR technology comes backed by individualized factory color calibration ensuring strict color accuracy, with its wide color gamut, USB-C connectivity and uniformity technology, it's the perfect piece of professional equipment where the user can save money against other similar spec models, without a compromise on quality.