Friendly and Easy Installation Solutions
to Save Time, Effort and Energy
Projector installation and placement can be time consuming and costly. This is why BenQ has incorporated features that enable quick and simple setup that can help you save hours of work – so easy that the setup tasks can be performed without hiring help. These features are also designed to support various types of environments, wall surfaces and projection image corrections, making the projectors a great choice for every setting.
A great feature for adjusting the projection image when your classroom projector is placed off-center, the 2D keystone correction feature gives you a wider projector installation or placement area, freeing you from space constraints. By correcting the trapezoid effect using horizontal and vertical adjustments, this handy feature compensates for any angel or position compromises that you may otherwise have to make. A proper image means less distraction and more viewing clarity.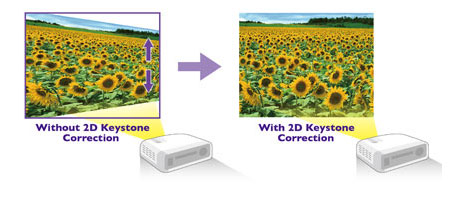 Corner Fit is the go-to feature for when the projector is used to project on restricted or uneven space, such as within a certain frame. It is a flexible and convenient way to correct picture dimensions by adjusting each corner of an image independently using the remote control, on-screen display or QCast.

Featured in selected BenQ education projectors, Surface Fit is designed to support projection on non-standard surfaces, such as concave or convex surfaces, opening you to more projection possibilities in school.

Simply press the "Quick Install" hotkey located on the remote control to quickly setup the projector. This is a great time saver for projector managers performing initial projector installation work.

Simply connect a BenQ network projector to a wireless dongle to support projection from any smart device installed with the QCast. QCast is a wireless projection application that helps simplify the process of setting up a projection screen, offering quick access to features like Corner Fit or Surface Fit.

Wall Mount Alignment System
Designed to help ensure a fail-proof projector installation, BenQ has implemented extra help into its wall mount design. This installer-friendly ultra short-throw projector wall mount features an installation chart and a measuring ruler to help you find the most suitable projector-screen alignment and image position for your classroom.
Easy Installation with BenQ Wall Mounts
BenQ makes perfect projector installations easy, providing installation templates to help installers determine the precise installation location relative to the screen. Once wall mounted, BenQ Ultra Short Throw projector mounts help complete the job, allowing installers to easily align and true the image by turning just 3 knobs at the front of the mount. Making the installation as easy as 123.
| | | | | | |
| --- | --- | --- | --- | --- | --- |
| 1. | Slide in the projector to connect with the wall mount. | 2. | Check the measuring ruler for the desired projection image size and adjust accordingly. | 3. | Use the three knobs on the wall mount to correct image distortion. Shift the wall mount and the projector to move the projection image vertically by up to 4cm and horizontally by up to 3cm. |