Smart boards, or IFPs (Interactive Flat Panels) as we call them for short, make class more productive, engaging, and safe.
Smart boards are great for hybrid learning modalities and help schools embrace a mix of in-person and remote learning. But beyond that, they're also fun.
With their interactive design and integration with devices like tablets and game consoles, BenQ smart boards bring the fun into classrooms and provide new ways for the gamification of learning.
Smart boards make learning gamified
Classroom games help students take in knowledge in fun, engaging ways that aren't as much of a "chore" as traditional learning. And with interactive displays, the variety of possible games is almost endless and certainly far beyond anything possible with just pen and paper or a traditional white board.

Students have access to an ever-expanding range of devices, apps, and games. Keeping their attention focused in class can be challenging. That's why leveraging play is so helpful for engaging students and making classes more enjoyable. Don't think of it as "bribing" students, because they love games. Realize that in-class play has always been a great help for sharing knowledge and motivating students, and take advantage of what new technology has to offer in this area, namely the benefits of interactive displays.

Now let's take a look at ten games you can play with your students on smart boards right in the classroom, whether via digital whiteboarding software, using specific game applications, or through PowerPoint.
I became a teacher in 2018 because I've always been passionate about teaching and working with children. After gaining experience and confidence in the classroom, I got the opportunity to teach at a private school.

During my time at the private school, there were some adjustments I had to make, one of them being incorporating the devices that were given in the classrooms such as the smart board. The smart board became the new method of learning for the children. With technology, the smart board became one of the most important tools used to keep students engaged and enthusiastic about learning. Since I taught students from ages five all the way to eighteen years old, the methods of using the smart board varied, but the results of classroom participation were all very successful.
Smart boards are for young learners
Students ages 5 to 10 enjoyed using the smart board during their recess time to play games that involved a lot of movements. An example of a fun movement game the students enjoyed was Active Arcade and Just Dance. This was played on the smart board, since the screen was big enough for the whole classroom to be able to see and participate. During the class time, the smart board would be used as a tool to help students practice their writing skills as the smart board is a touch screen.
Students ages 11 to 14 prepared activities that involved more critical thinking. The games that were played on the smart board included the memory game where the class would have to work together to try to match and remember objects and vocabulary. With the smart board's touch screen ability, students were able to get up in groups and try to work together to find the match between the pairs. Since this age group is mostly curious about how things work, the smart board came handy as its ability to browse the internet. Whenever I needed an example picture or a video, I was able to provide an example for them right away. This made the class very enjoyable and easy to understand.
Smart boards are for older kids too
As for the age group of 14 to 18, the smart board was incorporated a lot during the lessons. Since our school offers a program where students in Taiwan can connect with students from other countries,a lot of Zoom or Google Meets calls were held. This gave students the opportunity to use the smart board and connect it with a webcam and have online live calls with other schools to exchange culture knowledge. During their recess time, the smart board was used to play interactive videos where students could use the touch screen function to interact with the video. A great and fun learning interactive video was called Man vs. Wild.
Games for Whiteboard Apps (such as BenQ EZWrite)
The following games require software that allows you and the kids to draw, write, and generally create with ease on an interactive display.
What a timeless classic. Hangman has been used to help children learn how to spell for many years, but if you think the concept of a hanged person is inappropriate you can change the shape. Perhaps a hanging lantern?
In any case, the effect of drawing lines that correspond to letters and having kids guess and experience a visual outcome if they get it right or wrong is very exciting. Using the smart board, teachers can easily draw the lines and a hanging lantern as students play along.
Another classic, and this one never gets old even for adults as we all know. That's why Pictionary's great for learners (and teachers) of all ages. It's a great way to practice language and artistic skills, brought together with an interactive display.
Kids get a word that they then draw on the smart board, but can't use letters or speak. When a classmate guesses correctly, they go next! It's that simple. But it's also very effective for retaining vocabulary, plus as mentioned above, a good chance to practice drawing using the smart board.
This game combines math, vocabulary, writing, and more as needed. A favorite among younger learners, but also applicable up to junior high level. To play, you'll need to come up with a list of words or math equations and then present those to the kids. They will then use the words in sentences that they'll make up, while math equations need to be solved on the interactive display.
If you're using EZWrite on a BenQ smart board interactive display, take advantage of the split screen feature to better and more conveniently arrange the class into teams and add a competitive flair to the game.
If you have access to an NFC stylus, that makes the game a lot more fun and dynamic, as students quickly pass the pen to the teammate that's next in line and continue to write on the smart board.
Students take turns to complete sentences and equations, and the first team to have all members successfully carry out a task wins!
An excellent way to practice vocal expression and go over key points learned in class. Topics could be anything, but biology, history, and language are especially suitable.
To play, place a chair in front of the smart board. Then, students take turns sitting in the chair facing the class, with their back to the smart board. The seated student then needs to guess a word or image shown on the interactive display based on hints given by the rest of the class, without saying the actual word in question, obviously. When the hot seat student succeeds in figuring out the word, they get to pick the next contestant.
Downloadable or Browser Games
The following games can be downloaded directly to your interactive display through BenQ Suggests or via internet browser
This game includes word and concept matching, so it's very handy in exercising vocabulary retention. Different game modes available, including fill in the gap, match the word, flashcard, and type the answer. Everything you need is right at the game's website so all you need is to click and play it on the smart board., so make sure to check it out.
Highly active games that are perfect for energizing classes and encouraging movement. Those are known to boost student motivation and happiness, so it's a win all around.
GoNoodle is mostly recommended for grade school levels, and offers numerous game modes to choose from. Don't miss out on those exciting and highly engaging games that have the potential to increase student focus in a big way.
Kankakee Elementary School
Dancing along a video played on BenQ Interactive Display BenQ Interactive Display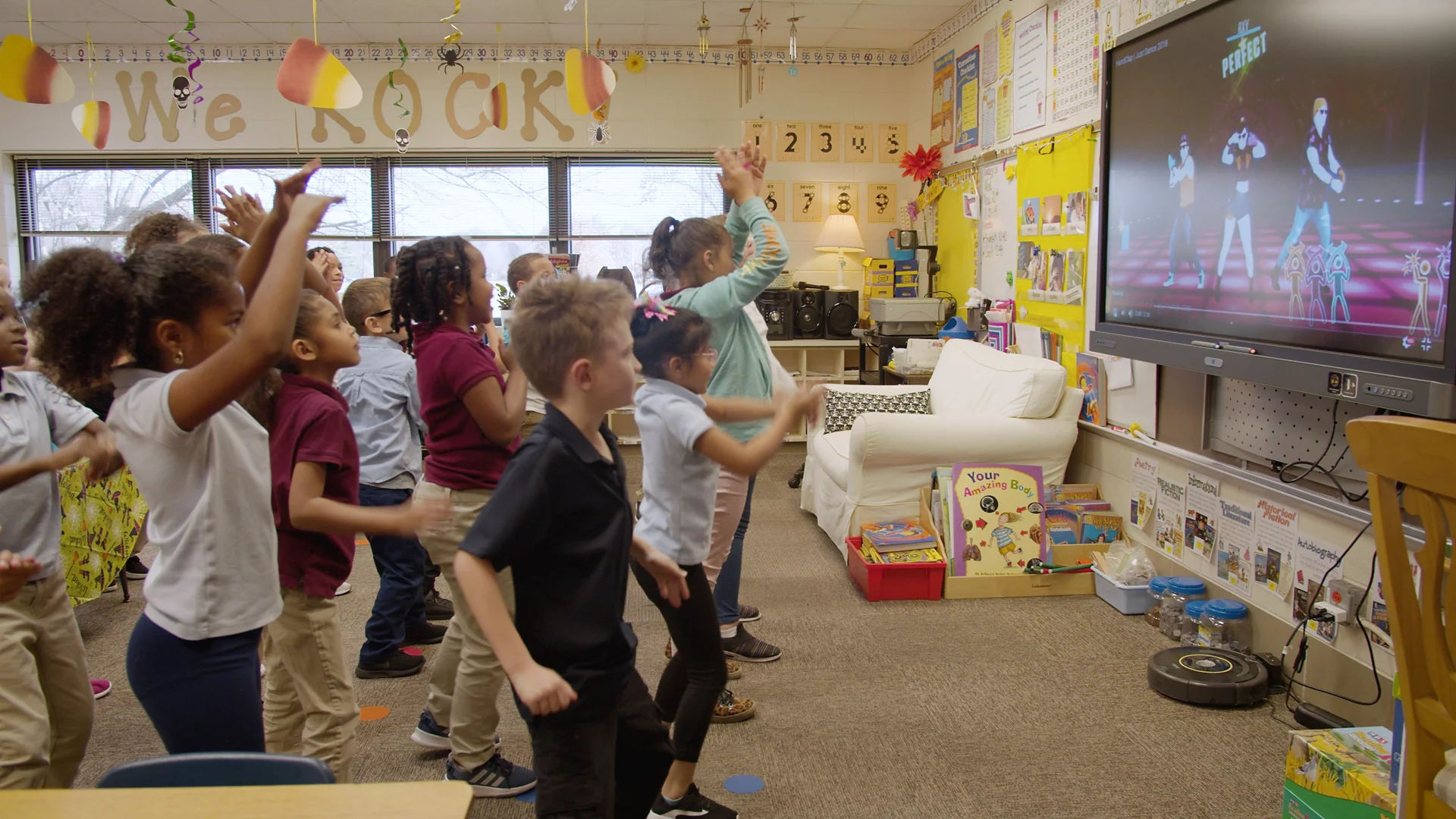 Students of Kankakee Elementary School dancing along a video played on BenQ Interactive Display
PowerPoint- Based Games for Smart Boards
The following games can be played through most common presentation software that almost all teachers are familiar with- Microsoft PowerPoint. You can mirror these games from your computer or display directly on Windows-enabled Interactive Display. Templates for these games can be found on the internet easily and with a tiny bit of customization, you can make your class extremely fun and engaging.
Jeopardy is a popular game that works just like the TV version and has students learning via a question and answer format with a team-based arrangement, and suitable for any grade. You'll need to set your class up into two to six teams, and then download the template. The game can then be played directly on the interactive display.
This is another popular party game and TV game show that makes a seamless transition to modern classrooms. Great way to introduce fun quizzes that help you and the kids review learned topics. Also works for any level or grade, and only requires two teams. Get the template and instructions and prepare to have a wonderful time.
9. Who Wants to be a Millionaire
Everyone! And everybody also loves playing this game, which remains a popular fixture in global culture. The rules and concepts are familiar to most teachers and students from TV, and the importance of quizzes and knowledge retrieval should not be underestimated for learning purposes. It requires cooperation and teamwork, plus emphasizes volunteering. Full guidelines and templates are available for download.
For our next game, you won't need to clear out any space. All you need is to go to a website called Wordwall and search for memory games. There will be plenty to choose from according to categories . This game is simply like a card game that has vocabulary words and pictures on the back of it that are hidden. First, the students will tap on a card to reveal the picture or vocabulary for a slight second before it becomes hiddenagain. Next, the students will have to remember which card belongs with which pair and try to match them. Which team is able to find the most matches can earn some extra points. This is extremely fun as there are sound effects, requires thinking, and can be played with the touch screen system on the smart board.
Bonus: More Games for Smart Boards
11. Interactive Video (choose your own adventure)
This one is my favorite. The teacher will play a video in English that is appropriate on the smart board. I often use Man vs. Wild as it is interesting, has great vocabulary, and is easy to access.

As the characters in the video go about their scenes, the video will pause for students to quickly read between two choices of what the character must do next. For example, should "Jim" , the main character, turn left to the bridge or turn right to the waterfall. Next, a student will have to touch the smart board screen to make the decision and watch the outcome. This is exciting as everyone has to watch and read carefully.
12. Active Arcade and Just Dance
For Active Arcade and Just Dance, the most important thing you will need is space , maybe even move some tables to have a clear and open space in front of the classroom. Using the smart board, you will have to search for either one, let's use Just Dance for an example. When the game is ready to go, make sure the audio system works as there will be music.
Next, let students choose their characters. Since there will only be four characters, students can team up. The game is super simple and fun as the up beat music keeps the students engaged. The students now have to do the dance moves according to the characters in the game. Which team dances best can earn extra points.
Interactive displays show their versatility in many ways, with games just one of them. They're obviously more than digital whiteboards to write stuff on, and games really highlight the smart and interactive aspect of these new generation educational platforms. We hope you'll give some of these games a try, and are sure you and your students will have lots of fun. Even the sleepiest class comes to life when play is at hand, so don't forget to give games a go. Contact us to learn more.
Get in touch with our team to learn more about our germ-resistant displays and our education solutions